Roller Dash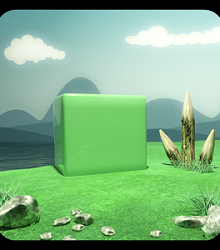 Jump and roll your way through dangers in this side-scrolling action platformer!
Roller Dash has simple single-touch game mechanics. The gameplay takes only a few minutes to learn but a lifetime to master. There's lots of levels to play, guaranteed to keep you entertained for hours!
Game Features
• Side-scrolling action platformer, with tricks and twists
• Easy-to-learn gameplay with just a single touch control
• Soft body physics!
• Lots of levels to play
• Leaderboards, compete with others around the world
• Achievements, statistics and rewards!
• Record, replay and share your gameplay with Everyplay!
Accept the challenge and see if you've got what it takes to be a true roller!
Roller Dash Gameplay Review:
I think the graphics could be better;however, I do like the concept of the game. I also think that there is a lag time between when I touch the screen to when the cube actually moves. It would also be nice to have a power gauge that you can long press before your release.